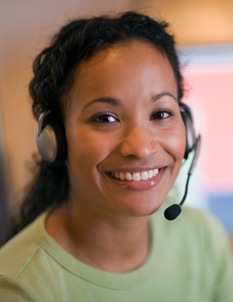 To View Our Hosted Services. Click Here
Many additional services are available to all our clients. Here are some great tools your business can use:
In-Bound Text Messaging
We can now receive text messages from your customer or employee, manage an SMS cell number database for you, and send important marketing information or notifications to members of your database as directed. We can do this with short-code technology (example text: SALES to 77948). Try it!
Your Customers Can Communicate Live 24/7 with our Contact Center via the Web
We can place a "Contact Us" button on your web site that will be acted on by our operators just as if your customers had called your office. This enables a quick response to sales and service requests instead of an email sitting in your inbox. We can also place a "Live Chat" button on your web site where your customers can interact with us live and not leave your site before completing their transaction.
Enhanced Email Management Services
Inbound emails from your customers are presented immediately on our operators' screens for fast reply and action. Let us manage your sales@ or info@ general email addresses and don't miss an important message..
Local Telephone Numbers for out-of-area Locations
Use a local number from almost anywhere in the USA for your customers to call in place of a long distance or a toll free number. This gives you a "local presence" in different markets. Forward lines from a remote location to a local DID directly to our Contact Center.
Out-Bound Text Messages
You can complement your media campaigns or employee alert system with fast bulk outbound messaging. Just send us your Cell phone database or have us create one for you.
PAS Sentry
Our system has been integrated with high-tech video analysis software. With user defined/scheduled triggering events such as a person or an automobile entering a monitored area, our call center agent is alerted to the situation with a video clip and is guided through the handling of the matter with the scripted instructions that are laid out by you.

The end result...we can successfully monitor and administer potential issues through the use of this prompted software system.
Secure Email Services
HIPPA and other confidentiality issues can be satisfied using our secure email server.
Secure Messaging Services
Our 'Cloud Based' messaging service is fully integrated with our call center solution and can be utilized across many industries. This virtual pager service resides on Smartphones (or your iPad), with multiple paging functionalities and benefits including:

Consolidation of Devices
Confirmation of Delivery and Read
Continuous alert & Repeated delivery - Never lose a message!
Convenience - Full reply capabilities
Compliance - Secure HIPAA service, Full audit trail and message logs
Coverage - Global with cellular data or WiFi
We have Added New Functionality to Our Secure Client Webserver
Besides the Message Management and Oncall Management options, we have added:

An Announcements section that we can use to post general information important to you.
A Download section where you will be able to download custom reports on your own.
An Upload section where you can send us files we may need to better service your account (PDFs, Oncalls, etc.).
A contact list management section where you can update any phone numbers, email addresses, text message numbers, pager numbers, etc. for anyone in your company we may have to reach.
An ALERTS tab where you can communicate directly with our operators without calling them.
The ability to add comments to saved messages and send alerts with those comments.
---